Hindi action movies are known for their larger-than-life scale, visually stunning cinematography, memorable dance sequences, and plot twists that make their audience members gasp for breath. Due to their attributes, they are categorized as quintessential popcorn entertainers. But some of the Hindi action movies are also known for their intricately crafted storylines that keep the movie-going populace hooked until the very end. This article will talk about five such movies in brief. Read on to learn more.
Vikram Vedha (2022)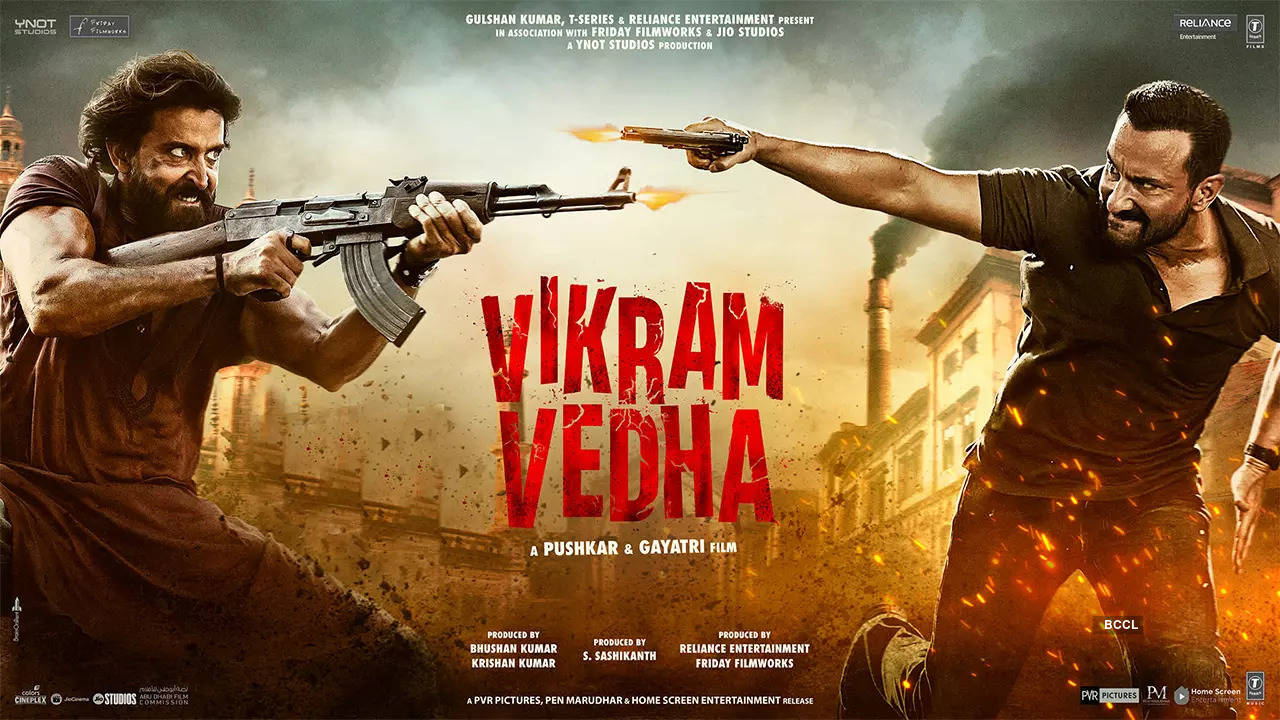 This Hrithik Roshan and Saif Ali Khan-starrer has some of the most well-curated action sequences that have ever been created by a Hindi filmmaker. But, that is not the only thing that makes this film a memorable work of art. During the interrogation scenes of the film, Hrithik Roshan's character, Vedhaa Betaal, presents a certain set of questions to Saif Ali Khan's officer Vikram that challenge his as well as the audience's perception of good and evil. In addition, Vedhaa's questions form the basis of some of the most interesting plot points in the film. The feature presentation can be streamed on JioCinema.
Ghajini (2008)
This A.R. Murugadoss film initially garnered publicity for the physique that its leading man sculpted for himself to play the lead character. But, post its release, the film went on to earn the title of an 'All Time Blockbuster' due to its engaging plotline and the unique set of tropes that were used to keep the audience on the edge of their seats. One of those tropes was that of a troubled lover who is determined to seek revenge for the death of his loved one in spite of personal challenges such as suffering from short term memory loss. The movie can be streamed on ZEE5.
War (2019)
The third film in Yash Raj Films' maiden Spy Universe franchise has been a box office draw since its announcement due to its star studded casting. But, when the film finally hit theaters, it became a favourite of the movie going populace for several other reasons. The Siddharth Anand directorial had themes of mentorship, brotherhood, past demons, patriotism, and deception. The combination of all of these themes made War a movie that kept its viewers hooked until the very end. If you are wondering where you can stream War, it can be found on Amazon Prime Video.
Fan (2016)
Even though the box office performance of this particular film was underwhelming at best, it was highly praised by critics and select members of the audience alike, and rightfully so. The story of this Maneesh Sharma directorial is about a common Delhi-based man who becomes vengeful after he is rejected by his celebrity idol, whom he bears an uncanny resemblance to. The manner in which the common man in question goes about seeking revenge makes for a very interesting plot. If the brief description of the film's storyline has excited you enough, you can stream it on Amazon Prime Video.
Tiger Zinda Hai (2017)

One of the most-hyped movies of 2017, and a sequel to Salman Khan's blockbuster presentation, Ek Tha Tiger, became one of the highest grossing Hindi action movies for that year. It can be attributed to several factors, such as its larger than life action sequences, its lead pair, and its choice of filming locations. But, most importantly, its success can also be credited to its simple yet sophisticated storyline, which is both emotional and engaging in equal measures. This movie, which also happens to be the second entry into YRF's recently-launched Spyverse, can be streamed on Amazon Prime Video.