Thailand's Chiang Mai is a hotspot for backpackers, long-term travelers, and those looking for adventure. Located in the northern part of the country with a more laid-back atmosphere than Bangkok, there's little wonder why the small city is so popular. The five million annual visitors can enjoy culture and history and stay in traditional Thai homes for next to nothing. Expect to find cheap food, good nights out, and a thriving entertainment scene that will cost a fraction of what you're used to backing at home. If this sounds appealing, keep reading and discover how to travel to Chiang Mai without spending a fortune.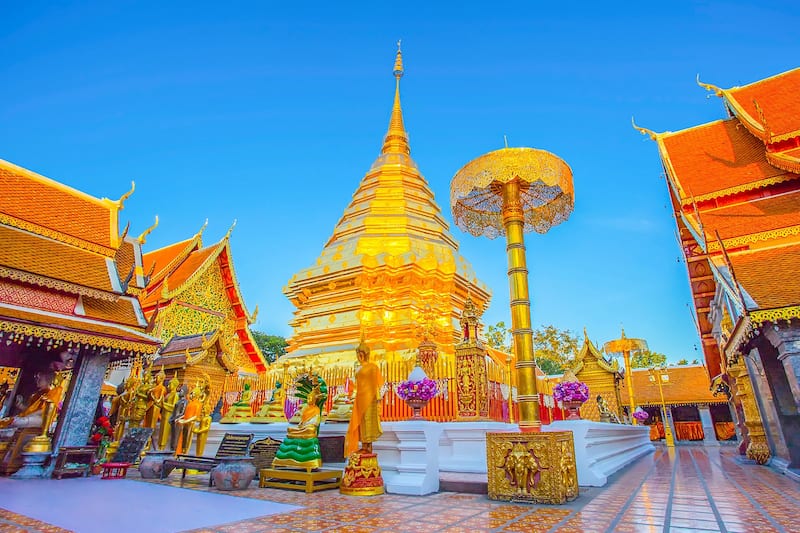 How Much Does it Cost to Travel to Chiang Mai?
It's an open secret that Chiang Mai is one of Thailand's most affordable destinations. Visitors often describe Chiang Mai as both affordable and excellent value for money. You'll see everyone from backpackers on a shoestring and long-term travelers looking to chill out for a few months to tourists getting some relaxation and healing in Chiang Mai. You can find it here regardless of the type you're looking for.
Travelers can survive on less than $30 a day, including accommodation, food, drinks, and entertainment, if they travel on a shoestring. Flashpackers willing to spend a little extra will find comfort and luxury for as low as $60. Or, if you want to splurge, you can get luxurious places to stay, enjoy a five-star vacation, and get excellent value for money. Consider the cost of eating out to give you an idea of how budget-friendly this Thai destination is. A typical meal in a local restaurant usually comes to less than $5, while dinner at a fancy restaurant rarely exceeds $30 for two, including drinks.
Cutting the Costs
Although Chiang Mai is an extremely affordable travel destination, it's wise to ensure you get the best value for money. After all, a few dollars here and there adds up quickly and can be used for another experience.
Consider CouchSurfing if you're traveling alone to meet locals and ex-pats and to have a cultural experience. CouchSurfing is a style of travel for those unfamiliar, where local hosts let you stay at their house free of charge. As a tourist, this can drastically cut travel costs and provide opportunities to tap into a local source of information. Hosts have the chance to meet other travelers and give back to the world. Sign up for their website and join the community. It's a great way to save money, get local tips, and immerse yourself in the local way of life. Some hosts in Chiang Mai are ex-pats, digital nomads, or Thai families.
Several people fall in love with Chiang Mai and try to extend their stay. If you fall into this category, it might be possible to find a short-term rental. The cost of living is low, and utilities such as electricity, water, and Internet connectivity are affordable. This might allow tourists to stay longer and get the most out of their money instead of spending on guesthouses, hostels, and hotels.
And a final tip that applies to all of Thailand is to remember that most prices aren't fixed. The vendors are usually willing to bargain when you're walking through the market or looking to buy anything outside supermarkets and malls. And as a foreigner, it's much more likely you will be offered a higher price. Don't be afraid to ask for less and discounts. But at the same time, don't be too worried about spending an extra dollar or two.
Affordable Things to Do and See in Chiang Mai
Chiang Mai has several activities and attractions to keep visitors busy and entertained. Expect to find everything from historical and cultural sites to adventure activities such as ziplining to visiting elephant parks and river cruises. Some are more expensive than others, and it pays to research online in advance to find out what interests you. While visiting the Elephant Nature Park will inevitably be more costly than other activities, it might also be a once-in-a-lifetime experience. But regardless of what you decide to do, be sure to enjoy the old town and temples and hike to nearby waterfalls.
A top tip for those who plan to spend more than a day or two in the city is to rent a motorbike. Getting a bike in reasonably good condition for as little as $10 to $15 per day is possible. Having a set of wheels allows you to explore more of the countryside and get off the beaten path by visiting the smaller villages and lesser-known attractions. And the roads are reasonably clear and safe, and fuel is inexpensive. Make sure the camera is fully charged to snap the majestic landscapes, and pack plenty of sunscreen for riding under the hot sun for several hours. Overall, having a motorbike will give you a different experience and the chance to enjoy the very best of Chiang Mai.
A Dream Trip Without Breaking the Bank
Hopefully, this article has shown you that Chiang Mai makes an ideal spot to go backpacking for a vacation or to enjoy excellent value-for-money luxury. Whether you spend your time CouchSurfing and staying in guesthouses or splurging on your own Thai home or vacation rental, it's almost guaranteed you'll find something to suit your needs. And most of all, you like so many others who visit, will fall in love with the town.